• Environment • Fabric • Fall • Fashion Industry • Fleece • Hemp • Hemp Fabric • Hemp Fleece • Organic Cotton • Organic Fashion • Polyester • What to Wear • Winter
Hemp & Organic Cotton Fleece is a warm, durable, comfortable, all natural, vegan, anti-micorbial, and uv resistant fabric. Hemp Fleece is soft and non-irritating. Hemp Fleece conforms to your shape. Hemp Fleece does not pill. Polyester fleece pollutes waterways and doesn't let you skin breathe. 
---
• Capsule Wardrobe • Fashion Advise • Fashion Rules • Organic Fashion • Wardrobe Management • What to Wear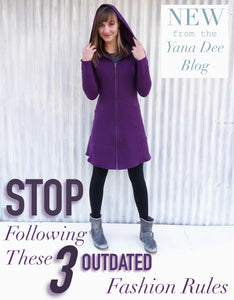 Fashion Rules can help simplify decision making, but when the rules get in the way of comfort or function, it is time to ditch them.
3 rules that are ready to retire:
You Have to be thin as a rail and flawless to show any skin.

 

Hoods aren't allowed. 
Certain colors are reserved for certain seasons.