• Environment • Ethical • Gift ideas • Organic Cotton • Organic Fashion • Peace by Piece • Salvaged Leather • Silk • slow fashion • Spring • Traverse City • Upcycled • Website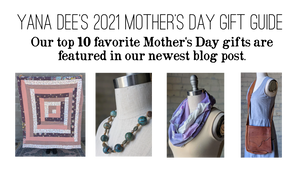 Keep reading for a list of Yana Dee's Top 10 Mother's Day Gifts for 2021. Click the banner above to shop the full gift collection of all 40 runner-ups! 1. A New Heirloom Blanket This one is great for mothers and children of all ages. Yana Dee's 2021 Patchwork Blankets have have heirloom potential. They were carefully crafted from salvaged and organic cotton. Of the 4 we started with, only two remain. Get one while you can! 2. The Etta Dress One of Yana Dee's newest dress design is perfect for young parents, grandparents, and other people with bodies who want an...
---
• Bamboo • Bamboo Fleece • Capsule Wardrobe • Environment • Ethical • Fall • Fashion Advise • Fleece • Hemp • Hemp Fabric • Hemp Fleece • Minimalism • Organic Cotton • Organic Fashion • Salvaged Leather • Wardrobe Management • What to Wear • Winter • Wool
Takeaways from my 10x10 inspired challenge:
Hemp is Dope.
Things Fall Apart.
Lounge-wear is Actually Important.
Black Clothes are Too Easy.
---
• Environment • Ethical • Gift ideas • Salvaged Leather • Upcycled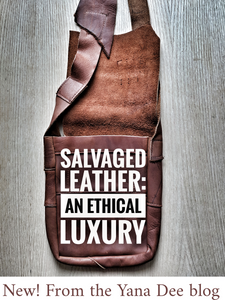 Our design philosophy at Yana Dee Ethical Apparel is based on minimizing waste, and maximizing the materials we have to create a beautiful, highly functional item. All of our leather accessories are made from re-purposing usable scrap materials from other makers. We acknowledge that the creation of leather has a lot of energy input, and honor that process by using the scraps we can find, as fully as we can.
Maybe now you can see why we dare to call these "ethical" leather accessories. Whether the piece measures a couple of square feet or a couple of inches, we are proud to feature the character of this prime material.