• 2020 • Fleece • Gift ideas • Hemp • Hemp Fabric • Hemp Fleece • Organic Cotton • Organic Fashion • Vegan • What to Wear • Winter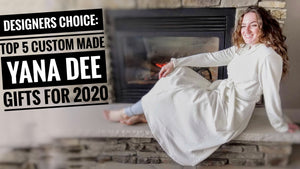 If anyone has a good handle on which custom-made clothing items make the best gifts, it's the designer and creator herself! I had a lot of fun talking with Yana to figure out what she wanted to put on this list. She's got good taste. Keep reading for Yana Dee's top 5 custom made gifts for the 2020 Winter Holiday Season. 
1. Fortune Robe
Here are 5 reasons why the Fortune Robe is at the very top of Yana's personal recommendation list:
Inclusivity. This robe is for bodies of every size, age, shape, gender, and ability. Everyone deserves to be cozy and warm in soft fabric...
---
• 2020 • Ethical • Fall • Fashion Revolution • Hiring • Jobs • Organic Fashion • slow fashion • Store Updates • Traverse City • Yana Dee Team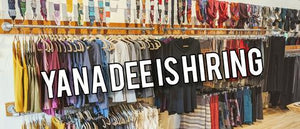 If you are dreaming of joining the Yana Dee team, now is your chance! We are actively hiring for a Store Assistant Manager. We are also accepting applications for studio sewers, and store sales associates, on a rolling basis. If you are looking for work in Traverse City, Michigan, read on to learn more about these positions and how to apply! Assistant Manager - Now Hiring Our busy downtown Traverse City boutique needs an assistant manager! Previous sales and management experience is required.  A passion for sustainable fashion is a must. As the assistant manager, you would do everything a sales associate does (see...
---
• 2020 • slow fashion • Store Updates • Summer • Traverse City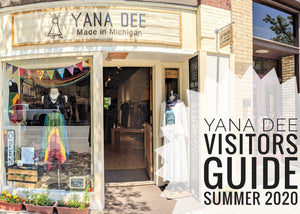 You will find beautiful, charming downtown shopping in Downtown Traverse city. One of the most unique stores here is, of course, Yana Dee!
Everything we sell is made "in house" right here in Michigan. The quality of materials used is of high importance; you will find only the finest cotton, linen, silk, hemp and other natural fibers in our clothing. Probably the most unique part of shopping here is that you can have clothing custom made for you! We will take your measurements, and help you pick the right color, fabric, and design details to suite your style. 
---
• 2020 • Fashion Revolution • Internship • slow fashion • Store Updates • Summer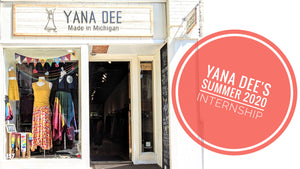 Yana Dee is offering a paid summer internship for the Summer of 2020. Internship dates run June 15 - September 30th 2020 (somewhat flexible). Internship hours would be approximately 30 per week. If you are selected as a Summer 2020 Yana Dee Intern you will complete your internship hours at our Downtown Traverse City store. This internship will include training and real-life experience in the following areas:
Merchandising
Social Media
Marketing Campaigns
Customer Service
Direct Sales