• Events • Fall • Music • Organic Fashion • Outdoors • Summer • Traverse City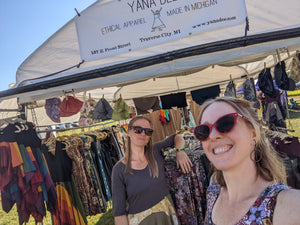 WHEATLAND - September 8-10, Remus MI
We are sew excited to be a part of the 50th Annual Wheatland Music Festival this year! 
HARVEST GATHERING - September 15-17th, Lake City MI
This beautiful weekend event is so near and dear to us. 
---
• Fashion Industry • Hiring • Internship • Jobs • Store Updates • Summer • Traverse City • Yana Dee Team
Attention design, business, and fashion students! Yana Dee is now hiring interns for the Summer 2023 Season. If you are a college student seeking real world experience to complete your design, fashion, business, or marketing degree, this opportunity is for you! Depending on your experience and learning objectives, you may be placed at our sewing studio, downtown store, or both locations. Company Overview Yana Dee Inc is a socially conscious and environmentally ethical apparel company based in Traverse City, Michigan. Yana Dee produces and distributes original clothing & accessories for people of all ages. Yana's original designs are sold locally...
---
• Environment • Ethical • Fabric • Fashion Industry • Fashion Revolution • Fashion Rules • Organic Fashion • slow fashion • Upcycled • What to Wear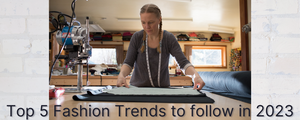 It's time to say "goodbye" to throw away fashion trends. Fast fashion clothing companies try and convince us that we should be following every constantly changing trend, so we always have to buy more to have a good wardrobe. Well, I don't believe it! I encourage you to set the resolution this year to buy clothes that you really like, whether they are trending or not. Daily life is more fun and fulfilling when clothes are comfortable. When we find beauty in ourselves, personal style can be body positive for anyone. I decided to write about these five fashion trends I hope you...
---
• Activism • Ethical • Events • Gift ideas • Traverse City • Website • Winter

It's 2022, and you've decided you want to shop like you have a conscience this winter season. Congratulations! If words like "small business" and "fair wage" and "organic" and "handmade" perk your interest, here are 5 of the best places to shop in the coming months. These are all great places to shop for yourself, Christmas gifts, and other occasions. Read thoroughly to find even more recommendations, including links to the online stores of some of our favorite fellow Michigan makers! 5. A Food Co-op. Here in Traverse City, we love shopping at our locally owned Oryana Co-op. This is a great...
---
• Bamboo • Capsule Wardrobe • Fabric • Fashion Revolution • Hemp • Hemp Fabric • Maternity • Minimalism • Nursing • Organic Cotton • Organic Fashion • Peace by Piece • Pregnancy • slow fashion • Summer • Website • What to Wear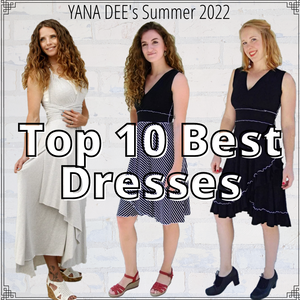 Summer is well underway, and Yana Dee customers have spoken with their dollars! Based on what customers like you have purchased since the Summer Solstice of 2022, these are our most popular dresses right now. You can tell our customers have been shopping smart this summer, because all of these dresses are going to transition through seasons, years, and phases of life with ease. Keep reading to see our current Top 10 most popular dresses! If you see a dress you don't want to live without, click on the picture to start shopping now. *Looking for a new favorite mommy-daughter dress...