• Events • Fall • Music • Organic Fashion • Outdoors • Summer • Traverse City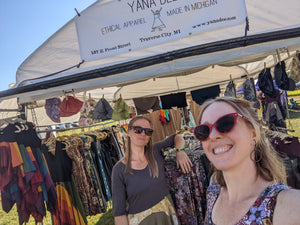 WHEATLAND - September 8-10, Remus MI
We are sew excited to be a part of the 50th Annual Wheatland Music Festival this year! 
HARVEST GATHERING - September 15-17th, Lake City MI
This beautiful weekend event is so near and dear to us. 
---
• Fashion Industry • Hiring • Internship • Jobs • Store Updates • Summer • Traverse City • Yana Dee Team
Attention design, business, and fashion students! Yana Dee is now hiring interns for the Summer 2023 Season. If you are a college student seeking real world experience to complete your design, fashion, business, or marketing degree, this opportunity is for you! Depending on your experience and learning objectives, you may be placed at our sewing studio, downtown store, or both locations. Company Overview Yana Dee Inc is a socially conscious and environmentally ethical apparel company based in Traverse City, Michigan. Yana Dee produces and distributes original clothing & accessories for people of all ages. Yana's original designs are sold locally...
---
• Activism • Ethical • Events • Gift ideas • Traverse City • Website • Winter

It's 2022, and you've decided you want to shop like you have a conscience this winter season. Congratulations! If words like "small business" and "fair wage" and "organic" and "handmade" perk your interest, here are 5 of the best places to shop in the coming months. These are all great places to shop for yourself, Christmas gifts, and other occasions. Read thoroughly to find even more recommendations, including links to the online stores of some of our favorite fellow Michigan makers! 5. A Food Co-op. Here in Traverse City, we love shopping at our locally owned Oryana Co-op. This is a great...
---
• Activism • Ethical • Fashion Revolution • Organic Fashion • Peace by Piece • Summer • Traverse City • Yana Dee Team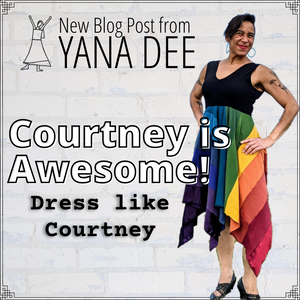 If you have shopped at Yana Dee in Traverse City, perhaps you have had the great pleasure of playing dress-up with our sales person Courtney (pictured above in the classic Rainbow Pixie Dress).We are so pleased to share the wonderful news that Courtney was recently awarded the 27th Annual Sarah Hardy Humanitarian Award. As a fierce volunteer advocate for diversity and equality, Courtney has done more than enough to earn this honorable local distinction. We are sew proud! Click here to read more about Courtney and the award. I take it as a huge compliment to Yana Dee, as a company, that the most prominent humanitarian activist in our region this year loves...
---
• Earth Day • Environment • Ethical • Fabric • Fashion Advise • Fashion Industry • Fashion Revolution • Organic Cotton • Organic Fashion • slow fashion • Spring • Store Updates • Summer • Traverse City • Website • What to Wear • Yana Dee Team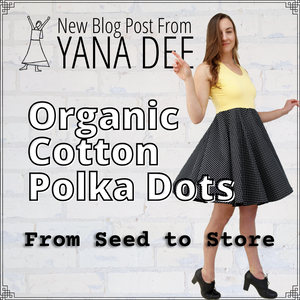 In the Spring of 2021, Yana started putting her finger on exactly what was lacking in her timeless classic clothing collection. That finger landed on a dot. Actually, it landed on a lot of dots. Polka dots, to be exact. Yana decided she needed to make polka dot dresses. 
The problem was, sustainable polka dot fabric was simply unavailable...