• Events • Fall • Music • Organic Fashion • Outdoors • Summer • Traverse City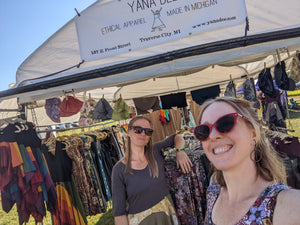 WHEATLAND - September 8-10, Remus MI
We are sew excited to be a part of the 50th Annual Wheatland Music Festival this year! 
HARVEST GATHERING - September 15-17th, Lake City MI
This beautiful weekend event is so near and dear to us. 
---
• Activism • Ethical • Events • Gift ideas • Traverse City • Website • Winter

It's 2022, and you've decided you want to shop like you have a conscience this winter season. Congratulations! If words like "small business" and "fair wage" and "organic" and "handmade" perk your interest, here are 5 of the best places to shop in the coming months. These are all great places to shop for yourself, Christmas gifts, and other occasions. Read thoroughly to find even more recommendations, including links to the online stores of some of our favorite fellow Michigan makers! 5. A Food Co-op. Here in Traverse City, we love shopping at our locally owned Oryana Co-op. This is a great...