• Environment • Ethical • Fabric • Fashion Advise • Fashion Industry • Gift ideas • Hemp • Silk • Upcycled • Wedding • What to Wear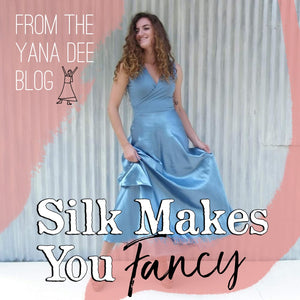 Silk has long been prized as one of the worlds finest fabric. Nothing mankind has concocted comes close to the strength and softness of silk. Silk is even surprisingly insulating; have you ever noticed how the finest wool coats and pants are always lined with silk? When Yana or I notice affordable clean silk in the waste stream, we usually acquire it. Since silk is all natural, it can be composted; but this precious fabric shouldn't be cycled through the chain of life until it is dirty and torn.
---
• Environment • Ethical • Gift ideas • Salvaged Leather • Upcycled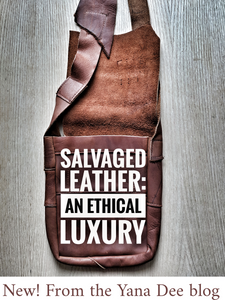 Our design philosophy at Yana Dee Ethical Apparel is based on minimizing waste, and maximizing the materials we have to create a beautiful, highly functional item. All of our leather accessories are made from re-purposing usable scrap materials from other makers. We acknowledge that the creation of leather has a lot of energy input, and honor that process by using the scraps we can find, as fully as we can.
Maybe now you can see why we dare to call these "ethical" leather accessories. Whether the piece measures a couple of square feet or a couple of inches, we are proud to feature the character of this prime material. 
---
• Fabric • Fashion Advise • Fleece • Outdoors • Upcycled • What to Wear • Winter • Wool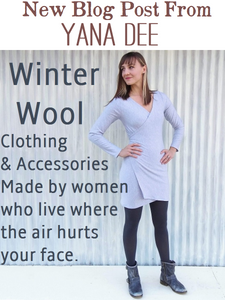 We wear the clothes we make. We live where it gets really cold and we like to be warm. That is why we love wool so much. Not only is it super warm, it is also breathable (so you don't get sticky if you sweat a little). Wool wicks moisture like magic, so it will keep you warm even if you get a little damp. If you think about it, that makes sense because wool is what keeps sheep warm and dry even in freezing rain, but doesn't overheat easily either.  Zero-Waste, Upcycled Wool Products As an ethical apparel company,...
---
• Capsule Wardrobe • Environment • Fall • Fashion Advise • Fleece • Organic Cotton • Organic Fashion • Outdoors • Upcycled • Wardrobe Management • Winter • Wool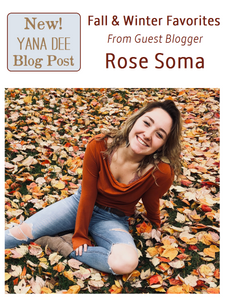 I'll never forget when I picked out my first Yana Dee Merino Wool piece. This long sleeve, scoop neck staple is incredibly warm and cozy. It's stretchy and easy to wear, and the inside truly feels like no other shirt. It quickly became one of my favorites, and I can't wait to wear it with my favorite gray beanie throughout the winter! It also goes quite well with my absolute favorite earrings; salvaged leather teardrops by Yana Dee as well.
---
• Capsule Wardrobe • Fall • Fleece • Hemp • Hemp Fabric • Hemp Fleece • Minimalism • Organic Cotton • Organic Fashion • Outdoors • Upcycled • Wardrobe Management • What to Wear • Winter • Wool
This collection is a dream minimalist wardrobe for the next three months. Compiled in Michigan in early November 2018, this is a cold weather capsule wardrobe designed for climates with ice and snow. If you live in a location with extended winter weather, these 33 items are for you! A vital part of surviving winter is staying active, so this collection includes some great outdoor base layers that are perfect for cross-country skiing, winter running, snowshoeing, or walking through a blizzard to see a movie downtown. I know that in just about every faith and community, winter holidays and parties are something to dress up for. So I didn't forget to feature some silk!